Maak je lichtgevende schoen via Wifi!
Leer over sensoren, wat een microprocessor doet en programmeren met Arduino! Schrijf hier in.

Workshop: Wifi in mijn Schoen!
Techworkshop, begeleid door Raoul Postel (CreativeHubs), maker, gediplomeerd docent in creatieve technologie.
Maak je eigen lichtgevende, via Wifi bestuurbare, schoen:
- hoe werkt een ledstrip;
- wat doet een microprocessor;
- wat kun je met een webserver;
- werken met Arduino-software.

Tech-Workshop van 1 - 1,5 uur
€ 35,00 p.p. of per videocall

Vanaf 10 jaar
Max. 4 deelnemers op locatie

Schrijf nu in voor deze workshop!
Hoe begin je?

Hardware: Ultrasoon Sensor / SP8266 of ESP32 / 4 x dupond-jumpers / usb-micro kabel
Computer/laptop (met usb-aansluiting)
Arduino Software: kies Download the Arduino IDE en installeer deze.
ESP8266 Board-bibliotheek (plak url in: Arduino IDE voorkeuren)


https://arduino.esp8266.com/stable/package_esp8266com_index.json

ESP32 Board-bibliotheek (plak ue in: Arduino IDE voorkeuren)

https://raw.githubusercontent.com/espressif/arduino-esp32/gh-pages/package_esp32_index.json

Sluit de ESP via de USB-kabel aan op je computer
Ga naar menu Tools en kies bij Board voor:
- NodeMCU (ESP-12E Module)
of:
- ESP32 Dev Module

En selecteer bij Port de juiste usb/com-poort
Kijk hier voor meer info en uitgebreide hulp.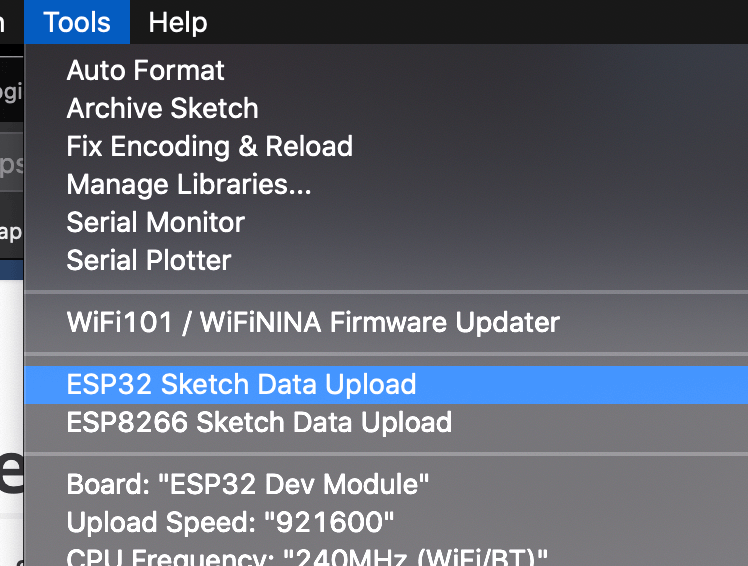 Voor deze workshop is ook een zogenaamd File-System (FS of SPIFF) nodig op de ESP. Hierin staan de bestanden die nodig zijn voor de webpagina.
Download eerst de FileSystem Extensie voor de juiste ESP:
Download ESP8266FS.zip
Download ESP32FS.zip

Ga naar de Arduino directory op de computer,
Pak het bestand uit en plaats dit in de Tools-folder.
Herstart Arduino IDE
Ook is er een Asynchrone Webserver bibliotheek nodig.
Download de AsyncTCP.zip
Download de ESPAsyncWebServer.zip

Ga naar de Arduino directory op de computer
Pak de bestanden uit en plaats deze in de libraries-folder.
Herstart Arduino IDE
En de Adafruit NeoPixel Bibliotheek voor het aansturen van de digitale Ledstrip
Ga naar Schets (Sketch) en open Bibliotheek Gebruiken (Use Library)
Type in het zoek-veld: NeoPixel
Installeer vanuit de lijst de Adafruit NeoPixel Library
Herstart Arduino IDE

---
Or DIY...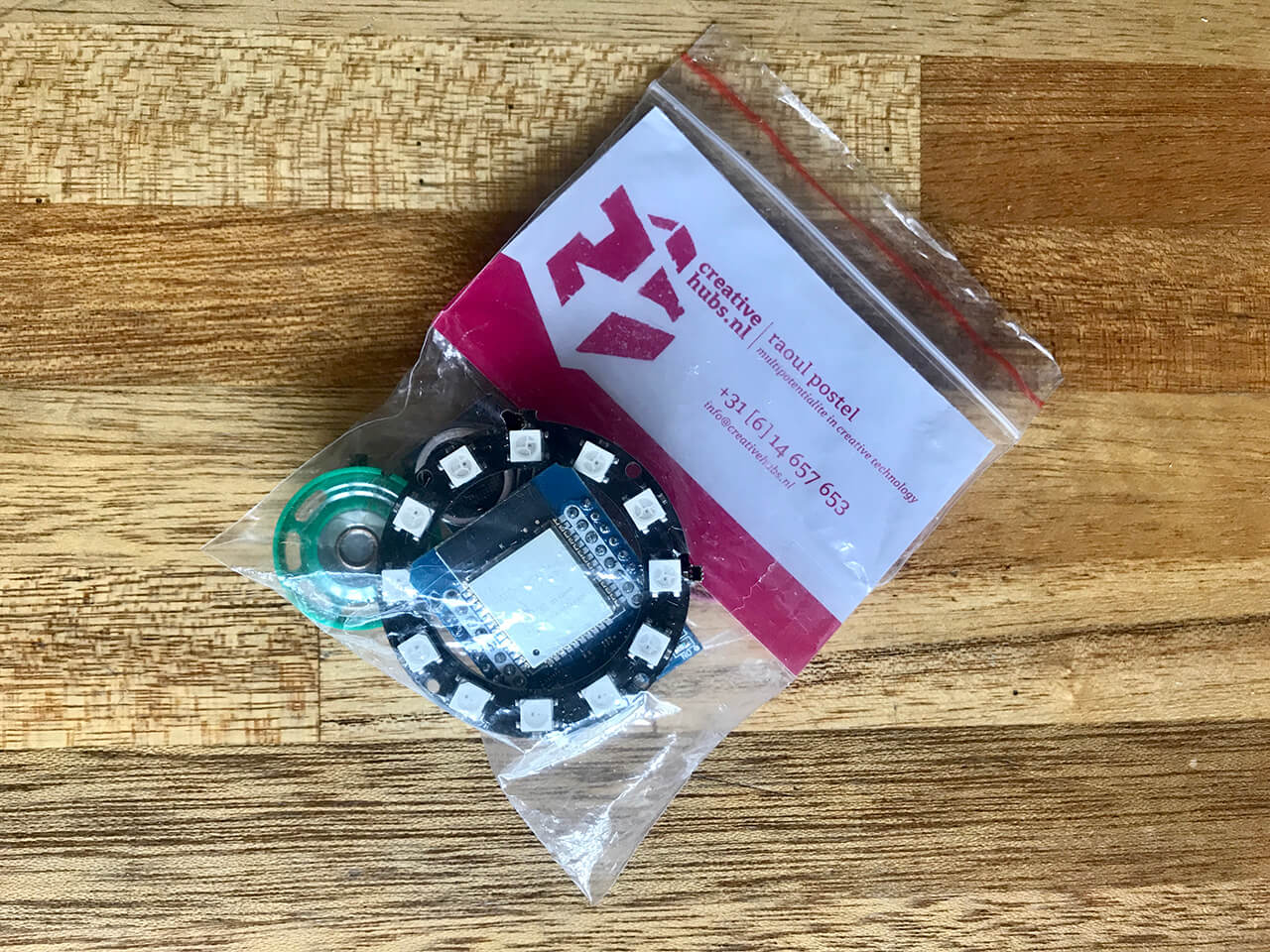 Download het Worskhop-boekje Wifi in je Schoen, waarmee je deze ook zelf kunt maken.

Koop zelf een ESP8266 bij Aliexpress.com of via Nederlandse webshop
Koop zelf een ESP32 bij Aliexpress.com of via Nederlandse webshop
Koop zelf jumper kabels bij Aliexpress of via Nederlandse webshop (female/female)
Koop zelf een Ledstrip-ring bij Aliexpress.com of via Nederlandse webshop
Download Arduino code
Zodra de data is geupload en code is geinstalleerd:
Maak via smartphone/tablet verbinding met het netwerk: WIFI_SHOE  en wachtwoord: wifishoe123
Open de browser en ga naar: http://192.168.4.1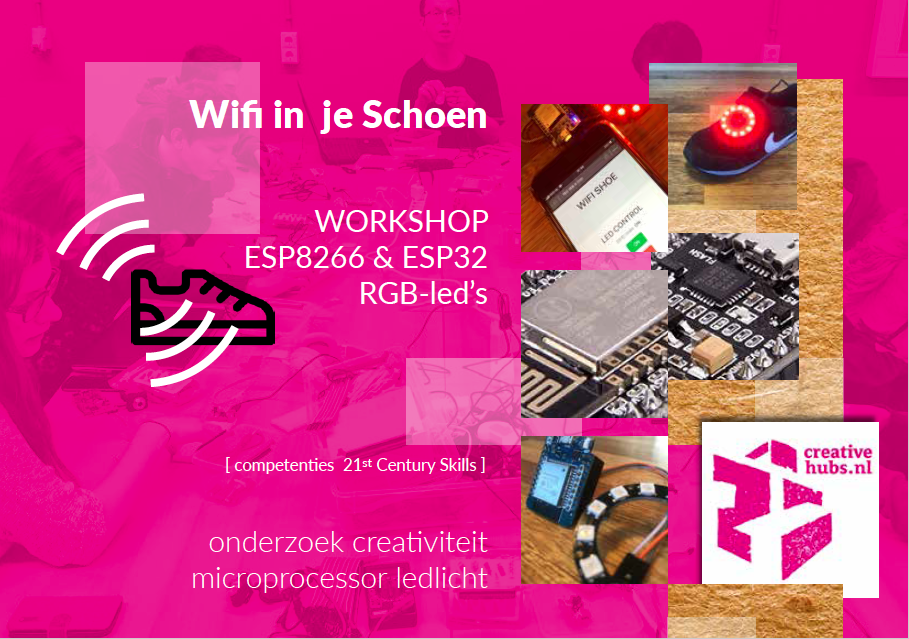 | | |
| --- | --- |
| | 1 tot 1,5 uur op locatie of via videocall |
| | 75,00 p.p. per sessie inclusief hardware. Betaling na de sessie, via Tikkie. |
| | 45,00 p.p. per sessie, exclusief hardware |
| | docent Raoul Postel, maker en oprichter CreativeHubs |
| | maximaal 10 deelnemers per sessie |
| | inbegrepen: 1 microprocessor + ledstrip-ring (12 leds) + jumper-kabels |
| | Via online videocall, link volgt na bevestiging |
| | Geen voorkennis nodig, alleen een laptop met USB |
---
Vragen?
---
Gerelateerde 3-in-1 Workshops